Facebook product design interview questions and preparation guide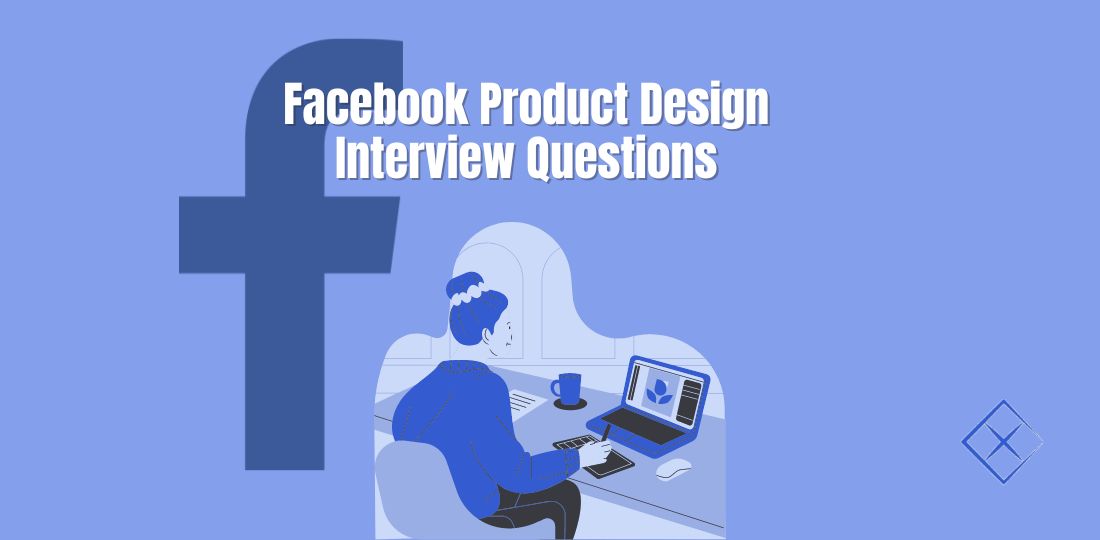 Facebook product design interview questions are pretty hard and specific to Facebook. They cover a wide range of topics.
The very first step to getting invited to an interview (at Facebook and anywhere else) is your portfolio. In your CV, it's important to have relevant roles front and center, but a portfolio is a MUST.
You are one of the thousands of portfolios received. So, make a noise with a clear and consistent story across your projects. One of the most important things to show in a portfolio is your process, design thinking, and meaningful solutions. . . .
Beginner's data structure's and algorithms course is for people who have just started their journey towards FAANG.
Now, when the hiring managers selected you, your chances of landing a job offer are huge. So, you need the right preparation for your interview ahead.
In this article, we will make your preparation for your product design interview at Facebook easier.
Overview:
Facebook product design interview process
40 Facebook product design interview questions
What do Facebook hiring managers look for in a candidate?
Responsibility of Facebook product designer
How to prepare for Facebook product design interview
Facebook product design interview process
The initial step of your interview is the phone screening. As the second step, you'll have a 30 min App critique/ 30 min Portfolio review. And then is the final, the on-site interview.
Facebook's product design onsite interview consist of four parts:
Portfolio presentation
App critique
Problem-solving (Whiteboarding)
Background interview
Portfolio presentation:
In this part of the interview, they will ask you to go over 2–3 projects from your past work.
App critique:
This is a part of the interview in which Facebook requests its candidates to critique a mobile app. In other companies, the same exercise can easily extend to desktop apps, service designs, and so on.
Problem-solving:
They will give you an open-ended prompt and deliver a wireframe solution.
Background interview:
The last is a behavioral interview part. In this part, the design manager will gauge your soft skills.
Facebook in its interviews looks for designers that are intentional, technical, hard-working, and care about what they build.
40 Facebook product design interview questions
What is the biggest challenge at work?
Why would you like to work for Facebook?
What about the role sounds most interesting?
Is Facebook the first company you interview this year?
Tell me about a project where you encountered friction with stakeholders?
What was a feature that you ought to keep in and why?
How would you design this piece differently? (App critique)
Tell me a time you deal with conflict?
Why do you think this app was designed in that way?
Walk me through a situation where you had to change our design.
What features do you focus on or what would be the product strategy you would create in the next year for this app?
Talk to us about a complex project you worked on.
How do you balance different design options and decide which one you want to ship?
Design an app for a park.
App Critiques: Spotify & Google Maps Problem Solving: Create a new app.
Why was the flow designed this way?
Tell me about your project.
Tell me about yourself and your background.
Can you give me the rundown of your career and where you're headed?
What's a new feature the app can add to increase growth?
Why do you want to be a product designer rather than a UX researcher?
What kind of challenges did you face working on your current product?
Redesign the VR/AR experience for Zillow.
Design a scheduling app (whiteboard challenge).
Describe one of the assumptions about this project that was challenged.
How large was the team you were working on?
Who else did you work with when you were doing X?
What kind of work do you enjoy more, X or Y and why?
What is the area you have the most to learn?
How would you make an app that helps you decide which gift to buy?
If you have all the power in the xx company, what would you change? - App critique
How would you encourage volunteering on FB?
Monetize the Facebook marketplace.
You are the product manager for Facebook pages. How would you design the success metrics for your product and team?
What's your favorite video calling product? How would you define the success metrics of it?
Facebook buy/sell group creation dropped by 10% month over month. What should you do?
Describe your high-level design process?
As a designer, what motivates you and what demotivates you?
Describe a challenging project that didn't go well?
What is a well-designed product?
Join Interviewhelp.io, get the answers to all these questions, and unlock many more questions, from our database of FAANG interview questions.
What do Facebook product design hiring managers look for in a candidate?
Product Thinking: Ability to find and solve problems, make intentional decisions, and show an understanding of how to successfully build products.
Interaction Design: Ability to create products that are easy to use.
Visual design: Creating products with a high level of visual polish, understanding typography, and layout.
Proactivity & Drive: Ability to work autonomously, take ownership and responsibility, without diminishing or compromising the contribution of others
Intentionality: Ability to realize an intended outcome. It encompasses communication, process, and their approach to working with others.
Self-awareness: Ability to understand his/her strengths/weaknesses and the willingness to seek new challenges to learn and grow
Responsibilities of Facebook product designer
Product designers are responsible for the visual, interaction, and product decisions on their projects, so the companies explicitly designed interviews to get the sense of a candidate's experience and aptitude in those areas.
Responsibilities:
Taking broad, conceptual ideas and turning them into something useful and valuable for billion users
Defining product specifications, creating digital/print drawings, and designing fully- functional products.
Designing flows and experiences that are incredibly simple and elegant
Contributing to high-level strategic decisions with the rest of the product and executive teams
Give and solicit feedback from other designers to continually raise our bar for quality
Partnership with Product Managers, engineers, researchers, and content strategists to oversee the user experience of a product from conception until launch (and then some).
How to prepare for Facebook product design interview - tips
In this part, we'll focus on how to prepare for a Facebook product design interview. I'll share some tips that are key things for what the hiring managers look for when interviewing you.
As I mentioned above, there are 4 types of interviews at Facebook:
Portfolio presentation
App critique
Problem-solving
Behavioral interview
For the portfolio presentation part of the interview, polish your portfolio! Hiring managers have very little time to review your portfolio. They want to see your work. So, get to the important stuff quickly, without things that distract.
Demonstrate your process and clearly articulate what you've worked on, and what others on the team worked on. Describe the team you worked with, show that you have experience working with different teams.
App critique interview - when doing an app critique in an interview, I recommend you to show that you know how software gets made, how many explanations there can be for different decisions. How much information is truly required to make good decisions, and how hard it can be to do good work, while also showing what kinds of good work you might do.
Sufficiently caveated, even proposed changes that wouldn't work well can show good design capabilities.
Problem-solving interview - In this part of the interview, choose a framework beforehand and time-box each major section. Because in this part, time management is a difficult thing, and usually unexpected.
Example:
Training your collaboration skills is essential for this part of the interview.
Behavioral interview - Here the interviewer will test your soft skills. Practice answering behavioral questions.
Prepare yourself to talk about your motivation for applying to be a Facebook product designer, about your top accomplishments, and situations where you've had a positive impact on a team.
Practice mock interviews
Mock interviews are always more beneficial.
Practicing in front of a mirror is good. But when others take your mock interview, you get another perspective. You get feedback from experienced coaches.
Mock interviewers will judge you on parameters you might completely overlook.
You will be more confident in a real interview if you went through a mock session.
Interview help is an amazing platform for practicing mock interviews.
Choose your coach and schedule your mock interview now