7 Tech Companies that are Currently Hiring: Right Now in 2022
Date : November 28, 2022
Categories :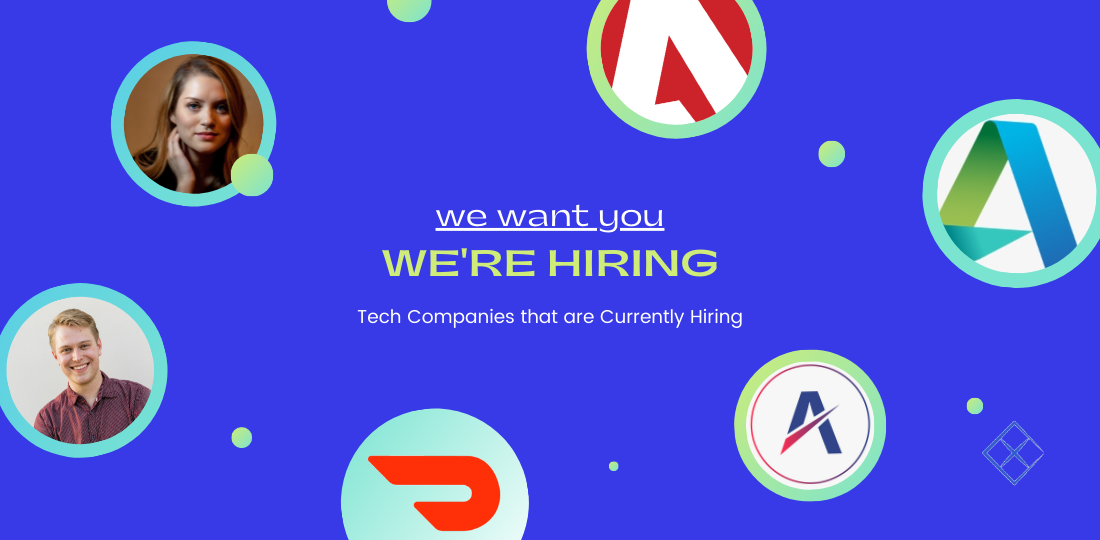 The tech dream has been rocked by the massive layoffs that has gathered pace in the last two months. According to Layoffs.fyi, in 2022, 853 companies have laid off 1,37,492 employees, while in the U.S., more than 73,000 workers have lost their jobs in 2022, according to Crunchbase News tally.
Crack Your Next Crucial Tech Interview
The rank and file of tech titans, from Amazon to Asana, Meta to Elon Musk-owned Twitter, have bled jobs amid economic uncertainty, while other stalwarts such as Apple have put an extended hiring freeze. The number of tech dismissals in 2022 accounts for over half of all terminations since Covid-19.
For decades, Silicon Valley tech darlings such as Alphabet, Apple, Meta, Netflix, and Twitter have been the gold standard for making it in the tech space. Employees flocked to these companies to work on some of the most influential technologies in the world and enjoy lavish campus perks, such as free food and laundry services, which had become synonymous with the Silicon Valley experience.
But the last several years, especially the pandemic, have begun to show the cracks in the façade. And the latest round of layoffs, in a matter of days, could be enough to derail the opportunity to work in the once-lauded dream companies. However, all is not lost, and the tech dream is not over, even if there is a temporary hiccup. We will share the details of a few tech companies still hiring and how you can give yourself to get selected by these organizations.
The Numbers Tell a Gory Picture
| | | | | |
| --- | --- | --- | --- | --- |
| Date | Company | #Employees Affected | % Of Staff | Note |
| 11/22/2022 | HP | 4000-6000 | | By 2025 |
| 11/18/2022 | Carvana | 1500 | 8% | Earlier let go 2500 or 12% of its workforce, on May 10. |
| 11/17/2022 | Cisco | 4000 | 5% | |
| 11/15/2022 | Asana | 230 | 9% | |
| 11/14/2022 | Amazon | 10,000 | | |
| 11/9/2022 | Meta | 11,000 | 13% | |
| 11/9/2022 | Redfin | 862 | 13% | |
| 11/8/2022 | Salesforce | 1000 | | Plans to cut more 2500 or 3.5% of workforce |
| 11/3/2022 | Stripe | 1000 | 14% | Earlier laid off 50 in August |
| 11/4/2022 | Twitter | 3700 | 50% | |
| 11/3/2022 | Lyft | 700 | 13% | |
| 10/17/2022 | Microsoft | 1000 | | |
| 10/26/2022 | Seagate | 3,000 | 8% | |
| 08/31/2022 | Snap | 1,280 | 20% | |
Resource: https://layoffs.fyi/
Why the Cull?
The large-scale layoffs at some of the world's largest organizations are not a good sign, and one of the reasons can be attributed to the ever-growing threat of a recession.
The tumult in the tech sectors follows the upsurge in the economy in 2021, where rock-bottom interest rates brought cheap money that resulted in abundant venture funding, an all-time high stock market with sky-rocketing valuations that made the tech companies giddy, and led to a stockpile skilled workers left right and center.
However, the recent quarterly results indicated that all is not well. Economic jitters, geopolitical issues, soaring inflation, higher interest rates, sluggish U.S. consumer spending, and a strong dollar abroad impacted these companies.
Startups that have been on a tearing run after the pandemic are also feeling the chill due to reduced investment budgets and sparser startup funding. Valuations, particularly at the late stage, have begun to dip, making it more difficult to raise new funding in this environment.
One of the primary reasons behind the job cut can be attributed to the last year's hiring spree. Many tech organizations admitted they hired too many people too fast as the economy was recovering from covid-19 and underestimated both the likelihood and impact of a broader slowdown. According to Axios, Google, Microsoft, and Meta expanded their workforce by upwards of 20% in the 12 months that ended in September 2022. Furthermore, wages have sky-rocketed in the last couple of years. In 2019 and 2020, the average tech salary rose by 3.6%, followed by a 7% hike in 2020 and 2021. Companies were compelled to offer competitive salaries and benefits packages to retain valuable workers who could otherwise be poached.
With lower demand and increased costs of hiring, the massive job cuts wave indicates that keeping payrolls low has become a priority. It also means those companies probably won't do another round of layoffs soon. Most companies tend to conduct one large, sweeping round of layoffs based on their worst-case economic scenario assumption.
Is it All Doom and Gloom?
Tech companies such as Meta, Twitter that are beholden to advertising spend are the worst hit in the current phase as they oversaw a steep decline in revenue. Google, the largest digital advertising platform, saw a dramatic decline in revenue and is expected to undergo an exercise to push out as many as 10,000 "underperforming" employees next year.
But tech companies not entirely dependent on ad spend are largely doing OK. Amid this doom and gloom, the tech industry is still poised to be one of the better-off workforces with the U.S. economy in flux. According to a Morgan Stanley research note, tech opportunities are available in multiple industries. Major job cuts in non-tech industries are also unlikely, as the [U.S.] economy largely remains short-staffed. Companies that are not conventionally not bracketed as tech organizations but use a lot of technology, such as Walt Disney, Bank of America, Deloitte, etc., have become preferred employers for tech roles.
Whether in the tech industry or elsewhere, demand for workers with technology skills remains sky-high. CompTIA, a non-profit IT industry and workforce organization, stated that tech companies added 20,700 workers in October. CompTIA's analysis of the U.S. Bureau of Labor Statistics revealed that employer job postings for new tech hiring rebounded after five months slide with nearly 317,000 openings, an increase of more than 10,000 from September. It should be noted that the number of tech openings in the U.S. is higher than the roughly 200,000 to 250,000 open tech jobs posted monthly prior to the pandemic.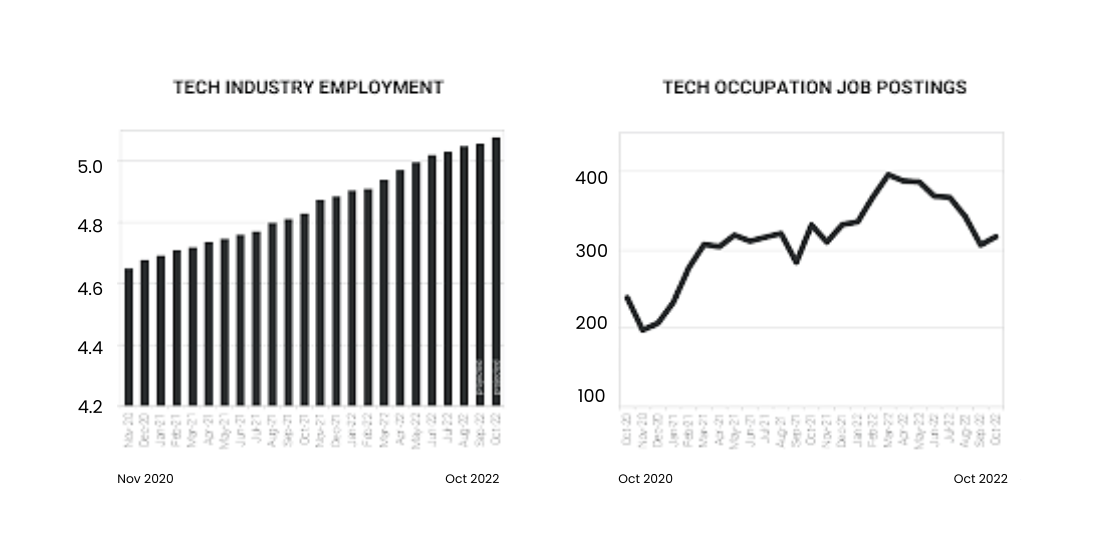 Source: CompTIA/Bureau of Labor Statistics
Employers are still trying incredibly hard to hire for roles including cybersecurity, cloud operations, data science, and analytics, which are in high demand as companies operate remote or hybrid workplaces and require distributed and secure networks. Some of the recruiters are looking to scoop up workers impacted by layoffs.
The research report stated that even with a growth slowdown, the number of tech layoffs is minute compared with the larger employment pool. As the analysts noted, tech layoffs since December 2021 account for a sizeable number for the sector but barely more than 0.1% of total U.S. payrolls.
Companies that are Hiring Right Now
DoorDash operates an online food ordering and food delivery platform. Based out of San Francisco, California, the company is looking for multiple roles in the IT domain.
_Update:_** https://www.linkedin.com/news/story/doordash-lays-off-1250-workers-6088778/**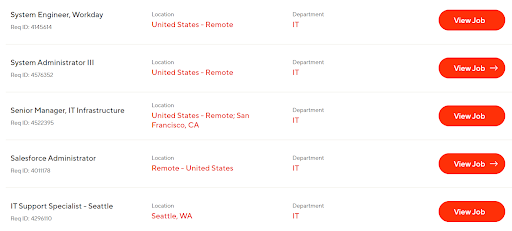 Adobe Inc., the global leader in digital media and digital marketing solutions with renowned brands such as Adobe Photoshop, Adobe Illustrator, and Adobe Acrobat Reader, has more than 1800 openings at the company and more than 300 openings across the product and IT verticals.
Update: https://www.forbes.com/sites/brianbushard/2022/12/07/2022-major-layoffs-grow-adobe-reportedly-cutting-100-employees-while-plaid-axes-260/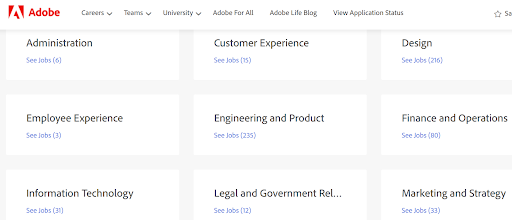 Softrams, a growing digital services firm in the Washington Metropolitan region that designs and develop digital services focused on HX, AI, Cloud, Devops, RPA, Blockchain, and Cyber Security, has multiple openings from DevOps engineers to Full-Stack Java Developers.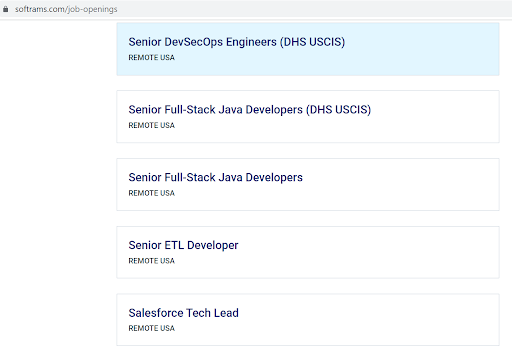 Verizon, the multinational telecommunications conglomerate, has more than 700 jobs in the tech sector at the company.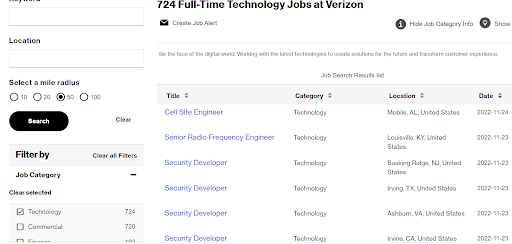 AvidXchange is a global fintech unicorn and is the industry leader in automating invoice and payment processes for mid-market businesses.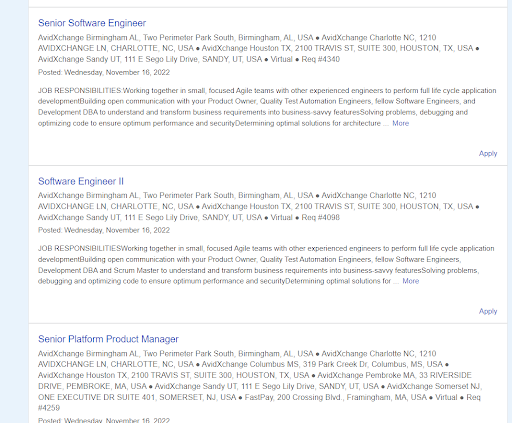 The multinational software corporation, famous for its flagship computer Aided Design software, AutoCAD. Headquartered in San Francisco, California, the company makes software products and services for the architecture, engineering, construction, manufacturing, media, education, and entertainment industries. Currently, it has more than 250 openings in the field of Development, IT, and Applications engineering.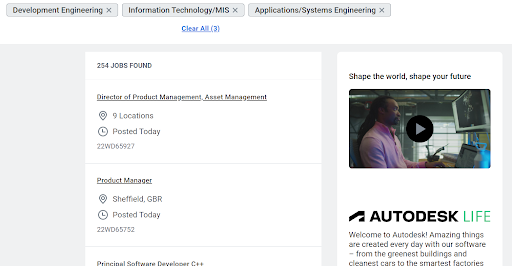 MathWorks is the leading developer of mathematical computing software for engineers and scientists.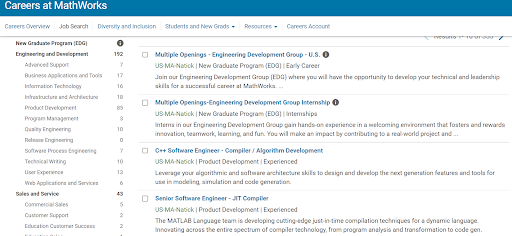 How to Give Yourself the Best Chance to Get Hired
The tight labor market is flooded with unemployed but highly qualified candidates. Apart from the intense competition, job seekers also face the challenge of acquiring adaptive skillset to meet the needs of a rapidly changing tech industry. In order to give yourself the best chance to get hired quickly, focus on the following:
Skills Development:
Skills are the new currency, and companies are adopting a skills-first hiring approach. Differentiate yourself from the competition, pay attention to fields where companies are making huge investments. For example, SQL, Python, and AWS have been some of the top in-demand skills in the tech industry for a long time. Check job descriptions at the top hiring companies to identify the skills they are looking for and whether you need to acquire them or upgrade them. For instance, if there's a new certification that you don't have but you think might benefit you in the long run, explore pursuing it.
Besides acquiring tech skills, you should also focus on your soft skills such as problem-solving, time management, communication, and interpersonal skills; companies are emphasizing such skills in rapidly changing hybrid environments.
Networking:
It is natural to feel anxious after being laid off or working in a stressful environment; however, being part of a community and seeking help by talking to others in a similar situation might be helpful.
Start by reaching out to your connections, initiate conversations with your peers, who might be able to offer advice, and support or make introductions that can help you get hired. Regularly engage in your professional community and seek mentorship, career advice, and potential job opportunities. It will also provide you with a feel of the current landscape.
Practice Interviews:
Tech interviews are very challenging, and no one understands that better than us. You need to undergo multiple rounds, where each and every aspect of your professional experience is scrutinized. And this highly competitive environment, it is critical that you prepare yourself and be ready for the chance that comes your way. From resume review to Leet Code and System Design Prep and behavioral coaching to mock interviews we can you to prepare better.
There is an art to interviewing in the tech industry and let us help you become the master of that!
Increase your chances of getting hired. Ace Your Next Technical Interview