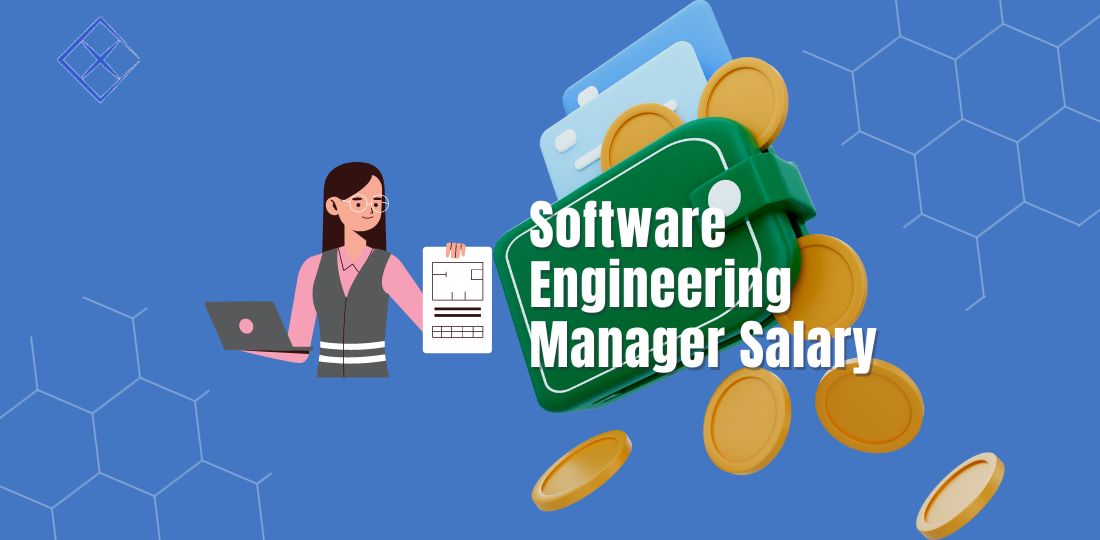 Software Engineering Manager Salary Guide
A software engineering manager assists organizations stay competitive by helping them oversee the design and development of software applications and keeps multiple projects running smoothly, making them an essential component of any technical services company.
A good software engineering manager is, in effect, a "force multiplier." They wear many hats, from solving technical problems to coaching and mentoring developers as well as "managing up." But how much does software engineering management pay, especially at large tech corporations? Because compensation is a huge factor, alongside the perks and benefits when deciding on a career move.
Know how to get your dream job at FAANG companies.
In this article, we'll cover how much software engineering managers pay, their career paths and what skills are required to become one.
What Does a Software Engineering Manager Do?
A software engineering manager is ultimately responsible for creating new software and maintaining old ones on schedule and within budget. Software engineering managers set priorities, foster an efficient and positive engineering culture in the workplace, keep track of work tickets, and keep stakeholders informed on projects' needs and status.
While the software engineering manager may be hands-on with the projects, most of their work involves overseeing projects and ensuring all products are fully functional and meet the company's standards.
A software engineering manager usually reports to executives such as a vice president, president, or executive of software development. A software engineering manager usually needs a bachelor's degree in computer science, computer design, or engineering. In addition, they need significant experience in software development; they must have expertise in implementing existing software.
How much does a Software Engineering Manager make?
The national average base pay for a software engineering manager in the United States is $147,097, according to Glassdoor. Typical salary ranges from $135,000 (at 25% percentile) to $184,000 (at 75% percentile). Salary ranges can vary widely depending on many important factors, including education, professional experience, organization, certifications, and additional skills. This excludes the average $14,421 in additional cash compensation that a software engineering manager can earn annually, including bonuses, commissions, and profit sharing. Apart from these benefits, many organizations( FAANG, MANG, of course) also provide stock options and RSUs as part of the compensation.
Learn From Top SDMs: The Secret to Landing Your Dream Job in Software Development. Get The Free E-Book
"The expert tips and advice provided by this guide are invaluable. I followed the advice and was able to land a Software Development Manager job at a top tech company. Highly recommend!" - John, Software Development Manager.
What Influences a Software Engineering Manager Salary?
The salary of a Software Engineering Manager is determined by a number of factors, including education, experience, and job location.
Years of experience
The average salary for Software Engineering Managers usually increases with experience. An entry-level Software Engineering Manager with less than one year of experience in the role can expect an average compensation (including tips, bonus, and overtime pay) of around $123,368. A mid-career Software Engineering Manager with 5-9 years of experience is expected to earn an average compensation of about $140,147. The average compensation for an experienced Software Engineering Manager with 10-19 years of professional experience is expected to be around $162,031 annually.
Location
Where you live can also impact how much you can make as a software engineering manager, as industry standards and demand and supply vary from place to place. Typically, working in a large metropolitan area correlates to a higher salary, a higher cost of living, as well as demand and supply factors. Below is a list of some major cities with their corresponding average software engineering manager salary :
City | Average Salary
San Francisco, CA | $189,167
New York City, NY | $161,538
Seattle, WA | $184,187
Boston, MA | $156,755
Indianapolis, IN | $123,911
New Orleans, LA | $118,709
Source: Bureau of Labor Statistics
Skills
Software engineering managers with in-demand or highly specialized skills generally gets paid better than their counterparts. For the management role, strong technical and behavioral skills are essential.
Software Engineering Manager Salary at FAANG and MANG
FAANG and MANG include the biggest tech companies in the world and are highly coveted for the role of software engineering manager. They consistently feature among the best companies to work for in the US, and joining them means working on cutting-edge technology — this attracts the best engineers from all levels. On the other hand, these companies also realize the importance of a good software engineering manager, as they have the potential to make the team twice as effective as a bad one. Hence they are always looking for the best out there and willing to pay handsomely for it. The competition is stiff, the compensation equally rewarding!
We'll take a look at entry-level software engineering manager compensation at some of the biggest tech companies (Google, Amazon, Google, Microsoft, and Facebook:
Company | Google (L6) | Amazon(L6 SDM) | Microsoft (64) | Facebook (M1)
Salary | $227,484 | $180,225 | $182,363 | $236,354
Stock | $217,323 | $165,221 | $45,518 | $293,656
Bonus | $50,729 | $37,180 | $33,449 | $54,818
Total | $495,536 | $382,626 | $261,330 | $584,828
Stocks can make a significant difference when it comes to boosting compensation. While Amazon and Microsoft offer salary and bonus roughly within a similar range, Google and Facebook's generous stock options significantly boosts overall compensation. This type of compensation is an excellent way to get the employees invested in the company's long-term success. At Google and Facebook RSUs are subject to a four-year vesting schedule, but the percentage varies. For example, at Facebook, 25% of the stocks vest annually, while at Google, 40% vests in the 1st year, 28% in the 2nd year,20% in the 3rd-year, and 12% in the 4th-year. They also have some restrictions on RSU, such as if you have not been in the company for at least a year, the stock will not be accessible.
While over the past few years, tech companies have enjoyed skyrocketing revenues and expanding businesses, resulting in skyrocketing market cap and stock prices. However, tech companies faced a significant downturn this year, fearing recession driven by the specter of an interest rate hike and all-time high inflation that has driven their stock prices down. If you're applying for a position at a company offering stock as a significant component of overall compensation, you need to consider the possibility of such swings. Last but certainly not least, ensure you're comfortable with the balance of your overall compensation—you might not like the risk of having too much of your overall package wrapped up in stock.
Working at FAANG+ companies has many perks besides salaries, performance bonuses, and stocks. Employees get full health insurance coverage, including dental and vision. Family insurance is also subsidized to a great extent. These companies also offer their employees complimentary breakfast, lunch, and dinner five days a week and provide paid time off and parental leave.
Other perks and benefits include:
Phone reimbursements.
Immigration assistance.
Remote and flexible work schedule.
Family leaves for up to 6 weeks for emergencies.
Child care reimbursement of up to $3,000.
Software Engineering Manager Career Path
A common career path for software engineers is to start as a junior software engineer, senior software engineer technical lead, and then become an engineering manager.
The engineering manager would advance to serve in a senior technical position, such as Vice president or head of engineering, chief architect, chief product officer, director of engineering, vice president of engineering, or technical operations, chief technical officer (CTO), and chief information officer (CIO).
How can Software Engineering Managers increase their salary?
Increasing your salary as a software engineering manager is possible in diverse ways.
Getting Promoted: If you're lucky, you may be organically promoted to the position within your company.
Master's Degree: If you only have a graduate degree, getting a masters in an engineering discipline enhances your technical skills and your resume. A Master's Degree can also help to shift or focus your skills, enabling you to differentiate your capabilities and expand your value to employers. Attaining a MBA degree may have an even greater impact on your salary. An MBA is typically considered a foundational business-leadership tool and can be helpful for engineers who excel in their engineering discipline to expand their career path into more management-focused roles and potentially increase their salary.
Changing Locations
Software Engineering Manager pay varies with location, so finding work in a different state or city can increase your salary. Typically, working in a large metropolitan area correlates to a higher salary. According to the Bureau of Labor Statistics, here is a list of some major cities with their corresponding average software engineering manager salary.
City | Average Salary |
San Francisco, CA | $189,167
Seattle, WA | $184,187
New York City, NY | $161,538
Boston, MA | $156,755 l
Washington DC, DC | $156,728 |
Change Jobs: Consider a career move to a new employer willing to pay higher compensation for your skills. Calculated job changes at various career stages can help increase your salary, often more quickly than if you had stayed with the same firm.
Software Engineering Manager Certifications: Certifications are a great way to show employers that you're committed to deepening your skillset while also picking up more knowledge about your profession. These certifications demonstrate your expertise in product development lifecycles and improving your technical skills.
How to Prepare for Your Software Engineering Manager Job Interview
Cracking software engineering manager interviews at major tech companies, let alone FAANG+ is difficult. If you are preparing for a software engineering manager role, check our extensive software engineering manager interview questions and answers guide that provides the most important questions likely to be asked in the interview to give you a better chance of succeeding and landing the coveted position.
We also provide Mock interviews — the first-of-its-kind, role-specific tech interview prep program designed and taught by FAANG+ instructors. Our tailor-made courses can help you nail your next tech interview and take your career to the next level.
Software Engineering Manager FAQ
Is it hard to become a software engineering manager?
Becoming a software engineering manager takes a lot of knowledge and hard work, but the path toward this career is not very complicated. A software engineering manager needs a delicate balance of people skills and technical prowess that takes years to develop.
What is the highest salary offered as Software Engineering Manager?
Highest reported salary offered as Software Engineering Manager is $490,000. The top 10% of software engineering managers earn around $600,000 annually.
How long does it take to become a software engineering manager?
Generally, it takes around ten years to become a software engineering manager by gaining relevant experience in software engineering and team management.
What level is a software engineering manager at Google?
At Google, software engineering managers are designated at L5, L6, and L7 levels. They oversee large-scale and highly technical projects and ensure they're completed.
Join a free event for SDMs - Know how to get your dream job at top tech companies.