How to Clear Engineering Manager Interview at Airbnb - Interview Help
Date : November 14, 2022
Categories :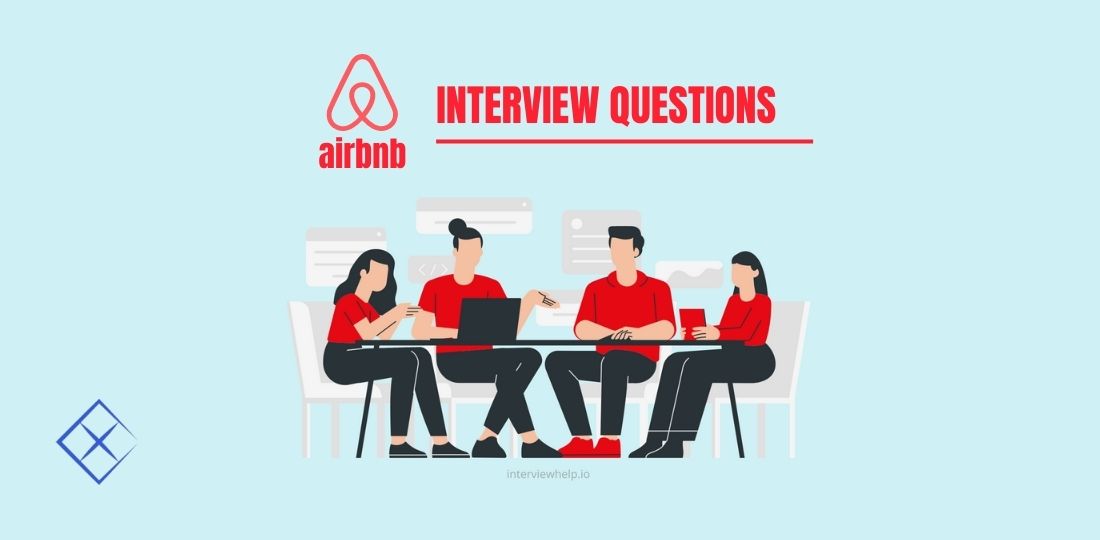 Airbnb, short for its original name, AirBedandBreakfast.com" is one of the most recognized names in the world. The company caters to the on-demand travel industry that allows property owners to rent out their private or shared spaces to travelers looking for a place to stay.
Crack Your Engineering Manager Interview
Cutting-edge technology is the heart and soul of Airbnb. Every reservation made on the Airbnb platform collaborates with AI technology to reduce friction, improve search, avert fraud, or assists hosts optimize pricing. To achieve this, the company has created a tech and engineering culture that empowers teams and individuals to own and maximize business impact. Airbnb invests substantial time, effort, and resources into attracting diverse, talented, highly technical, mission-driven engineers and engineering managers to lead its engineering efforts.
Landing a job at Airbnb is easier said than done. The company claims to review 15,000 highly qualified applicants each month. On April 28, 2022, when Airbnb announced the shift to a permanent remote work model, more than 800,000 people flocked to its career page! The interview process at Airbnb is lengthy, rigorous, and extremely competitive. Airbnb puts a lot of emphasis on management experience, alongside passion and finding the right cultural fit that aligns with Airbnb's core values; hence it is essential to prepare for technical and non-technical Interview questions.
Applying for a job and getting selected at Airbnb can seem intimidating; However, if you have the skills, passion, and meticulous preparation, then there is no reason you can't land the coveted job. In this guide, we'll talk about how with the right direction, you can give yourself the best chance to clear interviews at Airbnb.
Key Pointers of the Interview Guide for Airbnb - An Overview
Working at Airbnb
Salary and Perks at Airbnb
Airbnb Interview process at Airbnb
Topics to cover for tech interviews at Airbnb
Interview questions asked at Airbnb
Tips to prepare for an Airbnb interview
Airbnb interview questions FAQs
Working at Airbnb
If you love to travel and are passionate about working on community-building products, then Airbnb is a great place to work. Despite their exponential growth, they're keen to maintain their culture-focused start-up vibe. Airbnb puts a lot of emphasis on its core values. Employees at the company are given a lot of authority to act autonomously. The company trusts in your decision-making ability, and your core-value principles will be relied upon. Hence it is ideal for you to familiarize yourself with their core values and ensure they're in line with yours.
Airbnb's Core Values:
Champion the Mission
Be a Host
Embrace the Adventure
Be a Cereal Entrepreneur
Airbnb CEO and Co-founder Brian Chesky, in his interview with CNBC, stated, "To innovate, you have to be very curious and you have to ask a lot of questions … you can't presume you know the answer, and if you think you do, you have to constantly reevaluate."
Compensation package at Airbnb
| | | | | | |
| --- | --- | --- | --- | --- | --- |
|   Level Name | Level | Base | Stock(/yr) | Bonus | Total |
|   Product Manager | L4 | $169K | $95 K | $28K | $292K |
|   Product Manager | L5 | $210K | $183K | $34K | $427K |
|   Product Lead | L6 | $227K | $231K | $49K | $507K |
| Engineering Manager | M1 | $258K | $353K | $53K | $663K |
Source: Levels.fyi
Source: Levels.fyi
Apart from the competitive salary and perks, Airbnb also offers the following benefits:
Comprehensive health plans: Airbnb's healthcare plans include medical, vision, dental, life insurance, and disability benefits.
Generous parental and family leave: Airbnb offers employees a variety of leave options, including family medical, maternity, and paternity leave.
Learning and development: Airbnb provides its employees with various career development programs and technical skills training.
Annual travel and experiences credit: Airbnb offers a $2000 yearly travel stipend. Paid out quarterly, it lets employees stay at any Airbnb listing worldwide.
401 K: Airbnb provides 401k plans and matches a percentage of each person's contributions.
Airbnb provides 15 days of PTO (Vacation / Personal Days) and 5 Days of Sick Time.
Paid volunteer time
Healthy food and snacks
The Interview Process at Airbnb
Airbnb's hiring process, from application to offer, is quite extensive and can vary depending on the position you are applying for. The general interview structure for engineering managers or higher positions is similar to other large tech companies, and you are expected to undertake 7-10 rounds. The process will start with a few screening calls, and if you do well, you'll proceed to the on-site interview, which may include 4-6 rounds.
Initial Phone Screen Call with Recruiter
A recruiter will set up a phone screen call that typically lasts for 30-45 minutes. You should be prepared to talk through your resume crisply, answer behavioral-type questions, and also expect a few questions on domain-specific knowledge. Airbnb's much-vaunted focus on core values starts from the phone screening itself; hence you must put your best foot forward by preparing a few examples of how you embody these values in your professional and personal life. Sometimes If Airbnb recruiters find a better fit than the position you initially applied for, they will try to connect you with the right hiring manager.
Second Phone Screen Hiring Manager
Once you clear the initial recruiter call, you'll be connected with your hiring manager. This round is expected to last 30-45 minutes over the phone or via video call and will go more in-depth on your domain knowledge. The hiring manager will evaluate your skills to warrant the onsite interview rounds. Demonstrate your understanding of Airbnb's business model and how your experience will help the company in the engineering manager role. The phone screen gives you an opportunity to ask questions about Airbnb's culture, priorities, and processes, so be prepared with a list of questions.
On-site Rounds
Once you clear the technical round, you'll be required to visit the Airbnb office and attend four to six on-site interviews falling into 3-4 categories. Please note that with the company's recent decision to be fully remote, these rounds may be taken online through Teams, Zoom etc. at their discretion.
These categories are:
Leadership Rounds
Technical Experience Round (System Design/ Project Retrospective)
Business Partner Round
Cross-functional Round
Lunch Discussion
Technical: Architecture / System Design
In the architecture/system design interview, the interviewer will evaluate your technical abilities, decision-making, and domain experience. Consider this round a brainstorming session where the interviewer will ask you to design a large complex system in an open-ended way. You must focus on gathering the requirement, asking the right questions, and understanding the end goal before jumping to the solution.
While the system design round may seem challenging in terms of designing a large scalable distributed system and covering all the topics and trade-offs within this limited time frame. However, your clarity of thought behind your design choices, and your ownership of open-ended problems, will matter more than the final design. Experience with a wide range of tools and systems will be an added advantage, but if you can identify a need and suggest a solution, even if you've never used it will demonstrate your expertise in system design. For example, identifying that you need a load balancer to tackle high traffic and naming Traefik as a popular option would be more important than being able to drill down into how to configure one product or another to perform as a load balancer.
Generally, this round includes sharing your screen with the interviewer and using a digital whiteboard tool. Please take some time to practice and decide which tool works best for you before the interview. (Ex: Zoom whiteboard)
Key Focus Areas of the System Design Round:
Comprehensiveness: Does your approach cover all requirements?
_Structure: _Do you take a systematic approach? Do you solve the problem based on the constraints your interviewer set?
Communication: How do you lead the conversation? How do you take feedback? Could you communicate what you wanted to convey to the interviewer?
Trade-Offs: Did you consider multiple options and justify your decisions?
Technical Curiosity: Do you ask about the constraints of the system and the scope of things?
Logical Reasoning: Can you justify/explain in detail, be specific, and avoid buzzwords?
How to Ace System Design Interview at Airbnb?
To ace the system design interview at Airbnb:
Acquaint yourself with system design and architecture concepts.
Methodically explore different directions
Ask relevant questions
Study best practices and common pitfalls of modern software systems
Be honest, show confidence and flexibility
Practice by yourself or with peers: start by interviewing yourself out loud to improve your communication skills and develop a process for systematically breaking down such large-scale questions.
The best way to prepare for system design interviews is to watch our practice system design interviews and apply our system design questions interview guide, which covers a step-by-step method for answering system design questions. We strongly recommend you practice solving system design questions with a peer interview. Check out our system design mock interview service if you don't have anyone in your network to interview you.
System Design Questions Asked at Airbnb
How would you design a bicycle renting app for tourists?
Evaluate the upsides and downsides of building a super app
Can you share an example of a badly designed product?
Design a driverless car pick up service for kids?
How would you go about building a marketplace app for finding available parking spots?
For a marketplace, how would you decide whether to have two different apps for buyers & sellers or only a single app?
Resources to Study for System Design Rounds:
To get the foundational knowledge of system design or refresh your memory read the primary concepts of system design, including:
Network protocols and proxies
Databases: Index Pattern, Multi-Column Indexes
Data Modeling: Relational Databases vs. K/V
Database Scaling: Shared Disc vs. Shared Nothing, Database Sharding, Database Replication
Latency, throughput, and availability
Load balancing
Leader election
Caching
Polling, SSE, and WebSockets
Queues and pub-sub
Anatomy of a System Design Interview
Introduction to Progressive Web Applications
Designing Web Apps, Architecture Issues Scaling Web Apps, Web App Scaling
Technical Experience (Project Deep-Dive)
Airbnb's technical experience interview round is similar to a project retrospective or technical deep dive rounds at other large tech companies. You'll be asked to describe a specific complex project you have shipped. This interview usually starts with a quick overview of your background and resume and then proceeds into a technical project you have taken that you found challenging and impactful; how did the product launch go? Were there any issues? "What was the most challenging problem you had to solve on the project? "What aspect of the project are you most proud of?" The aim is to get you to share aspects you are comfortable talking about, and it gives the interviewer an idea of what you consider problematic, things you like doing, etc.
Part of being an engineering manager is working on large projects with huge potential and scope. Airbnb wants to assess your technical depth, systems understanding, and decision-making skills, but they primarily focus on your project management abilities and management style. The Company wants to assess your product's journey from concept to delivery and your role. Critical technical decisions you made, architecture trade-offs you considered. You can share the process, what went well, its impact, and things that didn't go well, and your learnings from that. One crucial aspect you can focus on in the discussion is the intersection points between components as they represent working on protocols, API, and interop schema, which is critical but often opaque to the inner workings of each component.
Essential Aspects to focus on while answering deep dive questions:
Measurable Impact: Describe the goals achieved, the metrics to measure them, and the impact. Whether it is the bottom line, site reliability or performance, developer productivity, etc.
Management Style: Demonstrate how you can work collaboratively with various stakeholders, effectively influencing through expertise and knowledge and ensuring the smooth delivery of a complex and scalable system.
Communication: Explain how you ensure your message is organized, clear, received, and well-understood.
Autonomy: Display how you focus on consensus building, can work effectively in ambiguity or without a clear structure, and take the initiative to improve products and processes.
Expertise: Show breadth and depth on a project through design, implementation, release to production and operations.
Technical Quality: Establish how you consider functional and non-functional requirements for the project, such as usability, maintainability, portability, performance, and testability. And also consider the project's extensibility, observability, metrics, and operationality, including monitoring and costs.
Some of the questions that you can consider using in your answer framework:
Can you talk in-depth about the choice of UI framework?
How to maintain performance?
How to achieve consistency across micro-services to allow consistency in front-end code?
How do you leverage micro-services to test new ideas and evolve?
How are you leveraging the DB for consistency?
How are you managing microservice dependency?
How did you scale microservices?
How would you ensure logging, tracing, etc., support operations?
How do you handle external integrations? Why?
How to Ace Technical Deep Round at Airbnb
To ace the project retrospective round at Airbnb, pick some of the most technically complex projects you've worked on in the past two years, whether it was a complicated database contention issue, performance challenges due to garbage collection, or migrating from version A to B with different semantics.
Note down your key takeaways from it, even if you had to take help from someone, what was the situation? Why it had to be solved? What actions did you take to resolve the task at a high level (learning, research, PoC), what was the result, and what did you learn? Given a chance, would you do something differently? etc. As with the other aspects of the Airbnb Engineering Manager interview process, practice the story multiple times. Include trade-offs and edge cases, write down logically sound arguments for any tech decisions you made and incorporate them in your answers.
Interview Round: Business Partner
Depending on the role, you may be interviewed by an important business partner: HR, product manager, marketing lead, etc. The goal of this interview will be to learn how you would partner with this person to achieve key business objectives - e.g., build a roadmap, organization, etc.
Cross-Functional Interviews
Airbnb has a unique mission and culture. As an engineering manager at Airbnb, you need to partner with a lot of cross-functional partners, and your work will directly impact the Airbnb community. You need to consider how their products change the world, how they affect guests and hosts, and the possibilities ahead.
This round is generally split into two parts, where cross-functional peers will interview from any team across Airbnb. They will ask experiential and hypothetical questions about how you've worked (or would work) with them, about resource allocation, etc. They will assess your communication skills, conflict resolution tactics, interest and reasons to join Airbnb, and whether you are a pleasant team player and fit in Airbnb's culture.
Airbnb assesses your fit throughout the interview, but this is a significant focus of the cross-functional round. Your preparation around Airbnb's core values and mission statement will come into play, as will your management skills. You'll be asked standard behavioral questions to understand why you want to work at Airbnb, whether you'll be an addition to the company culture, how you handle tricky interpersonal situations, etc.
Leadership Round - Senior candidates
If you are interviewing for a senior position, you may have to undertake one or two leadership rounds where you'll be interviewed by senior interviewers on their management and leadership abilities and qualities like strategic vision. Core values are also stressed again heavily. Sometimes you may be asked to create a presentation on a specific topic you need to present to a team.
At a high level, you're being evaluated on the:
Your team leadership abilities
Your communication and decision-making skills
Fit with Airbnb's values
Leadership: People Management Interview
People management interview questions tend to inquire about your experience working with a team, resolving conflicts, communicating with others, and motivating people to do their best. It is an excellent opportunity for you to share more about how you collaborate and work with others, make a positive impact, stay organized, meet deadlines, and use important transferable skills. This is generally a conversational round that covers some of the below-mentioned topics:
Performance management
How do you approach development, feedback, coaching, 1:1s, etc.?
How do you change for junior vs. senior engineers? High vs. low performers?
PIPs / Managing out: Have you ever had a lower performer, had to put someone on a PIP, or managed someone out? What happened and why? How was it resolved and communicated?
How do you handle disagreements between groups, say, between product management and engineering?
How would you handle resourcing issues between groups?
Team / Motivation:
How do you create an environment that acknowledges good work? How do you approach retention?
What do you do when you join a new team? What is your role as a manager?
How would you keep developers working on a product motivated and producing quality work?
Recruiting:
How do you recruit? Break down the process, any creative approaches you've taken, etc.
When was a time you made a hiring mistake? How was it resolved?
Leadership: Strategy Interview
An engineering manager is responsible for the success of the entire organization. You are responsible for managing people, projects, and processes, risk management, taking strategic decisions, prioritization, mentoring, etc.
This will be a conversational interview covering the following topics and more:
Org Structure:
How did you organize your team, and why? What are the charter/responsibilities?
What is the strategy of this organization? Mission statement & vision?
Prioritization:
Where do ideas come from your team?
How do you balance what top-down wants vs. bottom-up wants?
Team Dynamics:
How do you deal with conflict management? When you or someone on your team disagrees with upper management, you or each other?
Measurement:
How do you know if a project succeeded? How do you set up the framework?
What do you measure, how do you measure it, and why?
How to Clear Leadership Rounds at Airbnb
The bulk of your strategic leadership interview will be focused on behavioral competencies. It is essential to think of evidence-based situations you have previously been in where you have managed difficult teams, completed challenging projects, and also worked under pressurized circumstances. Spend time researching Airbnb's products, services, mission, and vision statement. Consider the opportunities and threats to their business and how you would respond to these. They would assess your ability to grow and add value to their organization. Draw up a rough plan detailing the potential growth areas within their sector.
At Airbnb, you may not be able to get away with shallow management answers; hence ensure to spend some time reflecting on your experience, defining your management philosophy – and using them as examples.
Tips to prepare for Engineering Manager Interview at Airbnb
Engineering managers at Airbnb are assessed on people management skills, technical competency, and culture fit. Since there is a significant overlap between these categories, you must consider the people management, cultural, and behavioral aspects when you review past projects.
Throughout the interview process at Airbnb, from the hiring management screen through the experience and cross-functional interviews you will encounter wide-ranging questions from behavioral, such as "Why do you want to work for Airbnb?" or "The host's dog defecates in the guest's suitcase on a dress/suit. What would you do?" "Have you ever developed a meaningful friendship with someone who you met briefly in an informal setting.?", "What was the biggest risk you've ever taken?" and "When was the last time you helped someone?"
Invest time in mapping your story bank according to Airbnb's values. List all your cross-functional stakeholders and think through your interactions with them. If conflicts arise, try to step into their shoes and understand their position. Once you can articulate that, think about your decisions and the outcome. Prepare rich stories that highlight teamwork, leadership, and innovation.
Culture and values are a big part of Airbnb; you must pass these qualities to be hired. Spend some time to understand the Company, its mission, and vision. Ideally, it would be best to use Airbnb as a guest and/or a host ahead of time so you could have a real-time experience when answering questions.
Engineering manager interviews at Airbnb can be daunting. But if you have a clear prep plan and stick to it, it will be much less stressful. Some areas that you can focus on:
Learn About Airbnb's Culture
Keep Your Basics Clear
Structured Thinking
Practice, Practice, and Practice
Airbnb Interview FAQs
How hard are Airbnb interviews?
Interviews at Airbnb are challenging. The questions are difficult, specific to Airbnb, and cover a wide range of topics. The good news is that proper preparation can make a big difference.
Is Airbnb fully remote?
Since April 28, 2022, Airbnb has allowed you to work from home or the office, apart from a few teams. You can move anywhere in the country you work in, and your compensation won't change. You have the flexibility to travel and work around the world.
How is working at Airbnb
The company has a rating of 4.2 on Glassdoor. 83% of people would recommend working at Airbnb, while 83% approve of the CEO Brian Chesky.
Want to improve your chances of clearing interviews with Airbnb? Register for a webinar.
Ace Your Engineering Manager Interview Using Our Strategic Interview Preparation Plan